toilets & treatments
Portable Camping Toilets and Treatments – Porta Potti.
We are an official stockist for Porta Potti. Best prices for Porta Potti camping, boating and recreation toilets in Brisbane.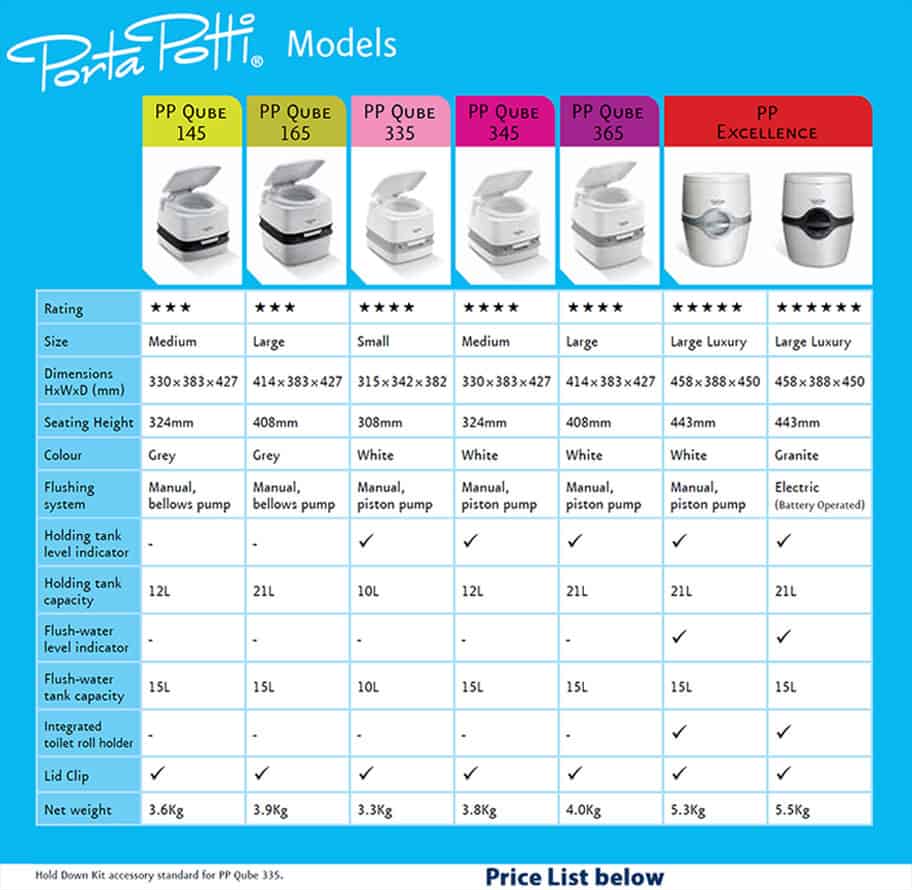 Why use Thetford Toilet Care products?
Complete range of high-quality products for daily use and periodical maintenance
The only products guaranteed by Thetford to be safe to use for plastic and rubber Thetford camping toilet parts
Products come in a variety of pleasant smells
Concentrated formula means they are economical to use and easy to pour
Measuring strip makes for easy application of the correct dose
Over 40 years of experience in designing and developing mobile toilets and mobile toilet care products
Continuous research and development: Thetford are always looking at ways to improve our products in an environmentally conscious manner
For more than 40 years, Thetford has been designing and developing toilet care products to keep mobile toilets functioning superbly. The researchers working in renowned laboratories and external institutes are constantly developing and testing new products. All because Thetford want to give you the best that money can buy!
Special Care Required
The experiences of users and our own extensive tests have shown that mobile sanitation systems require special care and maintenance. To avoid possible damage, faster wear-out or problems when emptying the waste-holding tank, we advise using Thetford Toilet Care products. Thetford products are there to guarantee trouble-free and comfortable use of your portable or built-in toilet. You can rely on our 40 years of experience in developing toilet care products!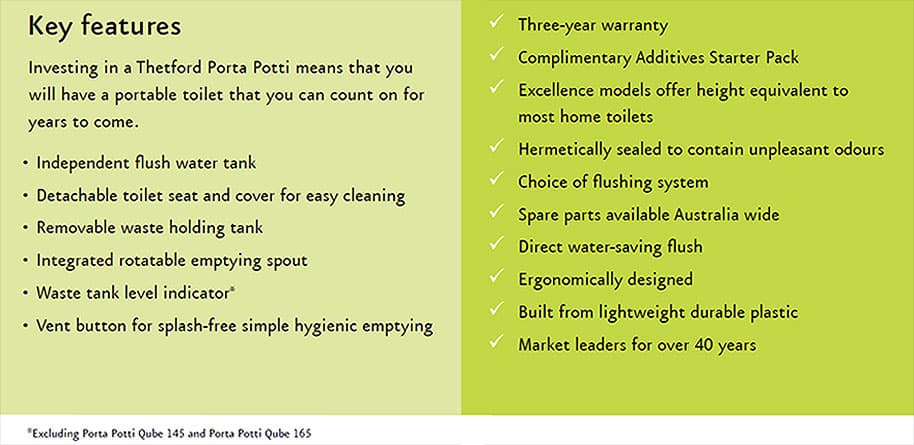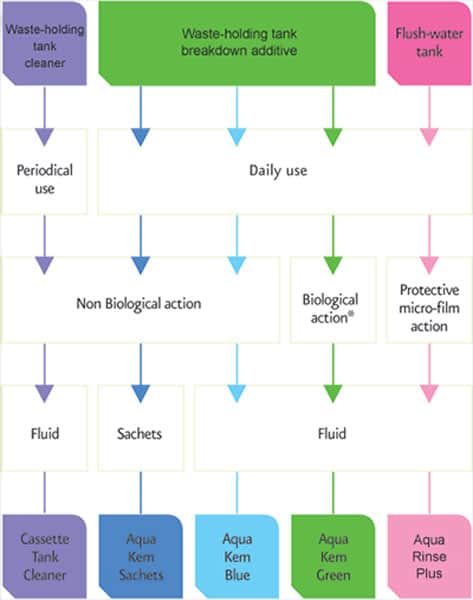 Toilet Care Products for the waste-holding tank.
All Thetford waste-holding tank products are for daily use
Suppress unpleasant smells
Keep your waste-holding tank pure and clean
Promote the breakdown of waste and toilet paper
Protect moving parts and extend the lifespan of the toilet
Reduce the formation of gas
As well as these qualities, each waste-holding tank product has its own specific benefits.
| | | |
| --- | --- | --- |
| Model | Qty | Price inc GST |
| Porta Potti Qube 145 | 1 | $126.00 |
| Porta Potti Qube 165 | 1 | $143.00 |
| Porta Potti Qube 335 | 1 | $175.00 |
| Porta Potti Qube 345 | 1 | $175.00 |
| Porta Potti Qube 365 | 1 | $169.00 |
| Porta Potti Excellence Piston Flush | 1 | $260.00 |
| Porta Potti Excellence Electric Flush | 1 | $315.00 |
| Aqua Kem Blue Sachets | 15 sachets | $33.00 |
| Aqua Kem Green Sachets | 15 sachets | $33.00 |
| Cassette Tank Cleaner | 1 ltr | $11.50 |
| Aquasoft Toilet Rolls | 4 pack | $8.00 |
| Aqua Chem Green | 1 ltr | $11.50 |
| Aqua Rinse Premium | 1 ltr | $11.50 |
Some points to consider when buying a portable toilet for camping/recreation:
Portable toilets are comprised of two separate tanks as well as a pump for flushing. The two tanks consist of a flush tank and a holding tank. The flush tank, as the name suggests, is used to flush the toilet. It is filled with water as well as a flush tank additive. This tank is always the top tank in portable toilets.
The holding tank stores the waste in the bottom of the toilet and houses holding tank additive mixed with water. This is the tank which is emptied when the toilet is full.
WHAT SIZE TOILET?
Portable toilets come in a range of shapes and sizes to suit different needs. If it is a toilet for a couple, a 10 – 12 litre capacity holding tank would be suitable. If the toilet is for a family however, the larger size toilets with holding tanks up to 21 litres would be more suitable. These larger units also bring the seat higher off the ground and feel more like your toilet at home. A good point to remember when choosing a toilet is; larger capacity= fewer empties.
TOILET ADDITIVES
As toilets are housing human waste, toilet additives are required to keep it both sanitary and to reduce odours. Two different types of liquid are used for this purpose.
Top Tank Liquid: This pink fluid is mixed with water and placed in the top tank. It provides a fragrant smell and puts a non stick coating on the bowl when flushed.
Bottom Tank Liquid: There are two different types of bottom tank fluid which offer different levels of speed in breaking down the waste.
Green Holding Tank Fluid: Lasting between three and four days, this fluid biologically breaks down waste. For this reason it is regarded as the more environmentally friendly option.
Blue Holding Tank Fluid: Lasting between four and five days, it has a fresh fragrant scent but should always be emptied into toilets or sewerage systems.
TOILET PAPER
As portable toilets do not have advanced plumbing systems, special toilet paper must be used to prevent clogging. Aqua soft toilet paper decomposes quickly in the waste tank and avoids clogging to ensure emptying your toilet is quick and easy.
EMPTYING
All Porta Potti toilets are quick and easy to empty. With the toilet additives working efficiently to break down anything in the bottom tank, odours and unpleasentness is kept to a minimum.
It is imperative to check local regulations to find the most appropiate place to empty the contents of a portable toilet.
HINTS & TIPS
Select a toilet with a gauge for the added convenience of knowing exactly when the next empty is required.
Make sure you keep spare toilet additives on hand so you never get caught out in the outdoors.
Always read the operating instructions of your particular toilet before you use it for the first time.
Merlin Portable Toilets offer a full range of camping, hiking and boating portable toilets at the best prices in Brisbane, Queensland. Delivery available Australia wide.