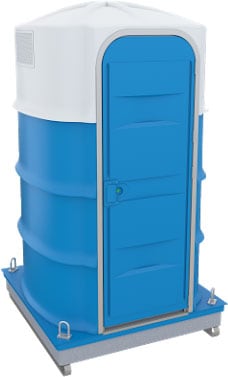 1. Why should I buy a Merlin Toilet?
A: We have been designing and building portable toilets for Australians for over 25 years. You can see that from our extensive range that we are experts in the portable sanitation industry and cater for all needs. We manufacture every toilet we sell and use the best components on the market. We stand behind our product with a two year manufacturer's warranty, after sales service, spare parts and on going supply of treatments to keep your toilets in the best condition. There are 25 year old Merlin portable toilets still in use today – we build them to last. We support all the major rental and hire companies in Australia and they buy our product because they demand the best.
2. How are Merlin Toilets different from other toilets on the market?
A: The majority of portable toilets on the market are imported or their parts are imported and assembled in Australia, these components are regularly cheap imitations or simply not built for Australian conditions. We use Australian made cabinets and internals manufactured in our factory with stringent quality control and import top grade European marine grade components – so they last up to 20 years. Please peruse our spare parts page to understand the quality of the components we use. We are proud to tell you what is in our toilets – we have nothing to hide.

We stand by our products and honour our warranty. Please be careful buying from overnight start ups pretending to have been in business for 40 years. Ring and speak with any reputable hire company and ask them what brand of portable toilet do they buy and stock. They may carry a couple of brands and Merlin is always one of them.
3. A lot of portable toilets look the same, how are Merlin's different?
A: Merlin actually design many unique toilets that you simply can't buy anywhere else. However, a number of cheap imitations have entered the market which look similar to our current range of Ultras and Executives. Our Ultra and Executive range offer these features that set them apart:

Largest waste tank on the market – up to 800 uses
Highest grade components – European marine grade quality pumps
Generally hand pumps – they last longer. We can do foot pumps on request.
Easy access to pumps and pipes – do not require you to access the pumps under the toilet floor or through the waste tank – they are to the side for easy access. No need to take off the walls to service our toilets.
Highest grade steel skids on every toilet.
Lifting systems that are certified -12mm high grade steel that go right into the skid – this provides extra strength to the entire toilet frame.
A proper steel top frame (in toilets fitted with a lifting system). We are the only company in Australia that offers this feature – everyone else cuts this corner to save money and your safety.
Rear evacuation valves – we use the best quality fittings and we provide a fitted galvanised door cover -it is not left uncovered and open to the elements or vandals.
Don't be fooled by imitations buy the original – buy the best.
Don't take our word ring any hire company and ask them who makes the best toilets in Australia
4. How often should the toilets be emptied.
A: On commercial building sites the toilets should be emptied every 2 weeks. In situations where usage is minimal if the correct treatments are being used then you only need empty them when the tank is full. The fresh water tank will need to be filled up regularly.
5. How do you empty the toilets?
A: The bowl assemblies on the toilets clip up to give full access to the waste tank and the vacuum pump can then remove the waste. The toilets can be fitted with a Rear Evacuation valve which enables the toilet to be emptied over a dump point.
6. What is the life span of a toilet?
A: Our early model toilets have been in the market for over 25 years now and they are still in good condition. We would expect a life of up to 20 years from our Ultra series toilets and approx 15 years on our other models. This lifespan is achieved through using our extensive range of spare parts. Raw plastic product is the same – the difference is the UV stabiliser used to provide resistance to the sun and UV. Most imported product are not stabilised to same level as our product. Most imported toilets on the market today have approx 5 – 8 year lifespan.
General FAQs
Q   Does Merlin Rent or Hire their toilets?
A   We are a wholesaler/retailer and we sell our products. We do not rent or hire.
Q   Why are there no prices on the website?
A    Most toilets need to be delivered and we provide a tailored quote for the product that best suits your needs and we can arrange delivery. Our cheapest product does not provide some features customer's desire.
Q    Can you arrange delivery?
A    Yes, we can arrange delivery.
Q    Do you have spare parts?
A    Yes, we have spare parts for all our equipment.
Q   Do you have second hand toilets?
A    Sometimes, however it is hard to keep good second hand product in stock. Most second hand equipment we are offered is approx 15 years old.